WHAT WE DO
We will establish a robust, externally funded research group to support innovation in the design and development of chemical and biological sensors using nanostructured electronic and photonic materials. This defense-related effort will be carried out in the College of Engineering and Chemical Engineering department in collaboration with UML's various technology centers.

Our research is at the intersection of nanotechnology, biotechnology and green engineering/chemistry with considerable spillover in the area of regulatory/safety policy. This has enabled us to reach out to the local community and raise awareness about sustainability and environmentally responsible behavior (and understand our own blind spots). We proactively engage the community in the form of outreach to local high schools and other institutions and have developed meaningful research projects for graduate, undergraduate, and high school students (see summer internship). Importantly, we hope to instill in these students, empowering values and beliefs on sustainability that would result in a meaningful and measurable long term change in behavior...
RESEARCH SNAPSHOT
CLICK ON POSTER BELOW FOR LARGER VIEW - AND ON INDIVIDUAL BOXES FOR PUBLICATION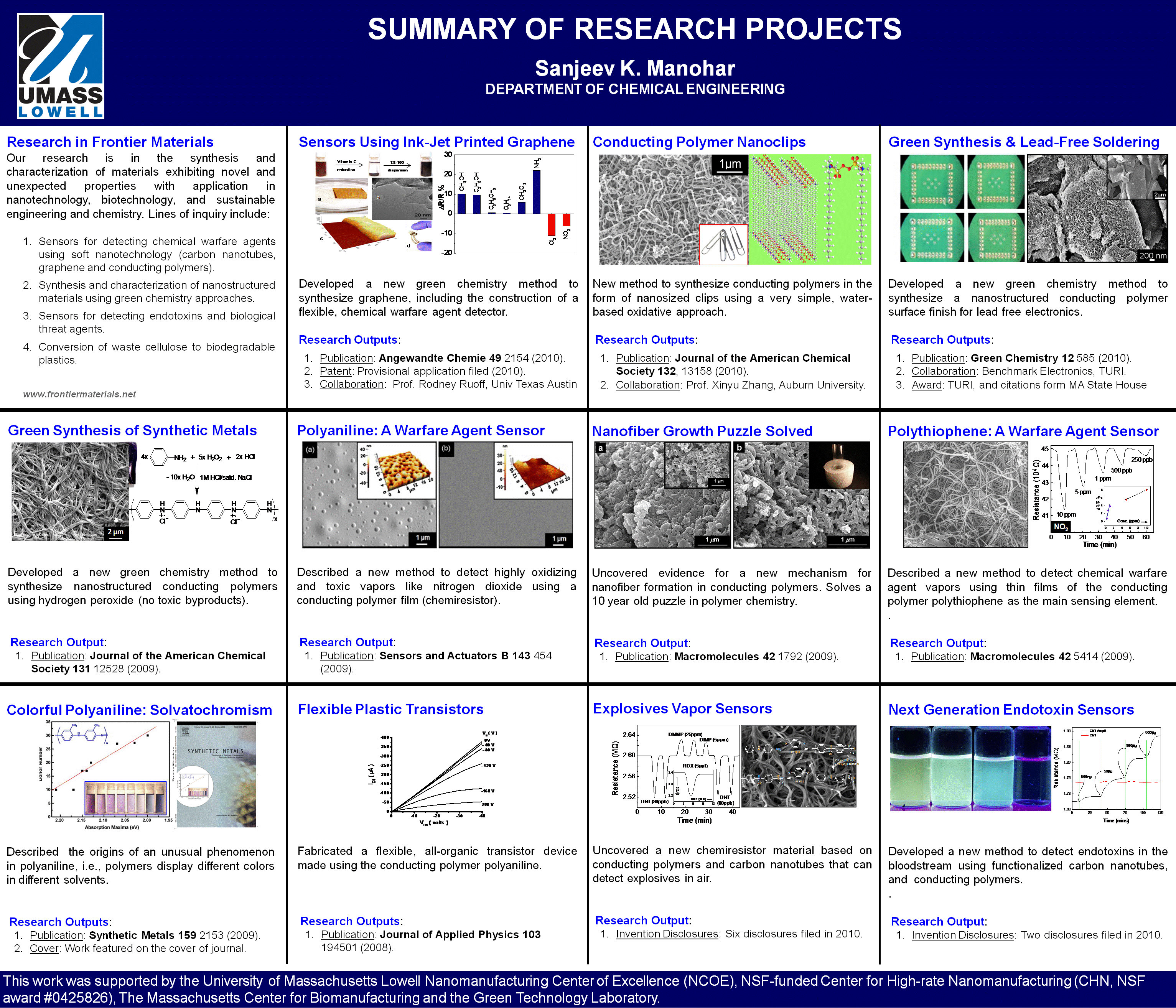 NEWS
Neha Manohar will start her PhD in chemical engineering at the University of Pennsylvania in fall 2014.
Citation h-index is now 30 (01/2014).
Dr. Sanjeev K. Manohar is pormoted to Full Professor (09/2013).
Dr. Xinyu Zhang recommended for tenure and promotion to Associate Professor at Auburn University (03/01/2013).
Sumedh Surwade and Neha Manohar's 2009 paper in Synthetic Metals gets top citation award (01/2013).
Mark Lalli started his PhD in chemical engineering at Northeastern University (Asagiri Group) in fall 2013.
Srikanth Ammu defends this doctoral dissertation and is now Dr. Ammu (12/2012).
Dr. Sanjeev K. Manohar appointed as Associate Dean of Engineering (04/2012).
Srikanth Ammu and Vineet Dua's manuscript on paper-based carbon nanotube vapor sensors published as a communication in JACS (03/2012). (PDF)
Dr. Sanjeev K. Manohar appointed Director of the UMass Intercampus Biomedical Engineering and Biotechnology Program (09/2011).
Dr. Kyle Cattanach wins a technology award at Baker Petrolite. Congrats! (08/2011).
Dr. Sumedh Surwade's first JACS publication in Dr. Haitao Liu's group (07/2011). (PDF)
Dr. Sanjeev K. Manohar is granted tenure at UMass Lowell (6/10/2011).
Our first joint publication with Dr. James Whitten's group is accepted for publication in the journal Sensors and Actuators B.

(2011) 156, 715 (05/2011). (PDF)
Our first joint publication with Dr. Xinyu Zhang's group is published in Journal of the American Chemical Society (2010) 132, 13158. (PDF)
Dr. Kyle Cattanach is promoted to Development Engineer at Baker Petrolite as he continues to excel in the area of black powder corrosion. (PDF)
Congratulations! Sumedh Surwade is now Dr. Surwade and has joined Dr. Haitao Liu's group at the Univ Pittsburgh as a post-doc.
Dr. Manohar receives University Research Champion award from the Toxics Use Reduction Institute (TURI) and citations from the MA Senate and House of Representatives.